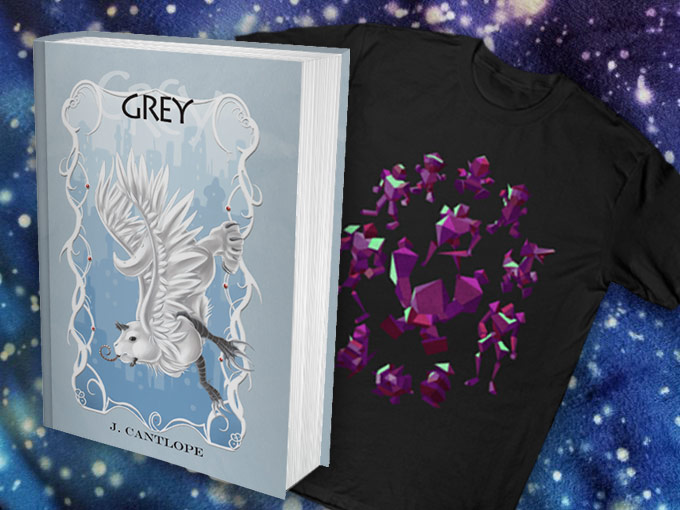 I thought I'd take a moment to mention some of the places where you can buy my stuff! It's all under Shop in the top menu, replacing "Stuff" from a while back — the resources and tutorials that used to be linked there are now under "Blog". Currently, my offerings are spread through a few different specialized online stores; this may change later with demand!
(I know right now that COVID-19 is a current concern; that wasn't the case when I first started this draft! The only items shipping directly from me at the moment are the stickers, and I've taken great caution in my personal life not to expose myself to anything for the duration of quarantine. Note that anything shipped from me internationally will be done so without tracking for the time being, in order to keep the cost down. Thank you!)
Buy Digital Games & Comics
My Itch.io account only has free content at the moment: particularly, All My Bowies, my silly, warm-up dating sim (about David Bowie); Bubble Planet, a very tiny comic about living in a bubble (planet); and Freckles, a quick, full-color zine dedicated to Prompto Argentum from FFXV! You can chip cash in for the comic if you want. Just follow your heart!
Buy Books
I self-published (/laid out/illustrated) a, original, young adult novella for fun back when I was in college. It was fun! The original version is still for sale.
Buy Stickers
I've begun selling cute die-cut stickers and sticker sheets! Buy them at Storenvy! Note that, due to COVID-19, these orders may be slower, but I am taking precautions as to the safety of any sent packages. I am also unable to add tracking to international orders (for the sake of our wallets), but do let me know if something doesn't arrive within a month's time!
Buy Shirts
New! I've begun putting some shirt designs on Teepublic! I heard long ago that people would like Fighting Polygon Team on a shirt… Well, now it's possible! (Note that I've seen this design floating around on Google in various cut-up forms, but I am most definitely the creator.)
Give these shops a once-over and let me know what you think! I'm not great at marketing these things, but I do think they are all quality as far as things I made that you can put money toward goes. I create and sell mostly for fun; if all goes well, I will eventually consolidate these shopping resources!
Thank you!!